Real Madrid Clinic at Grand Palladium Imbassaí and Grand Palladium Riviera Maya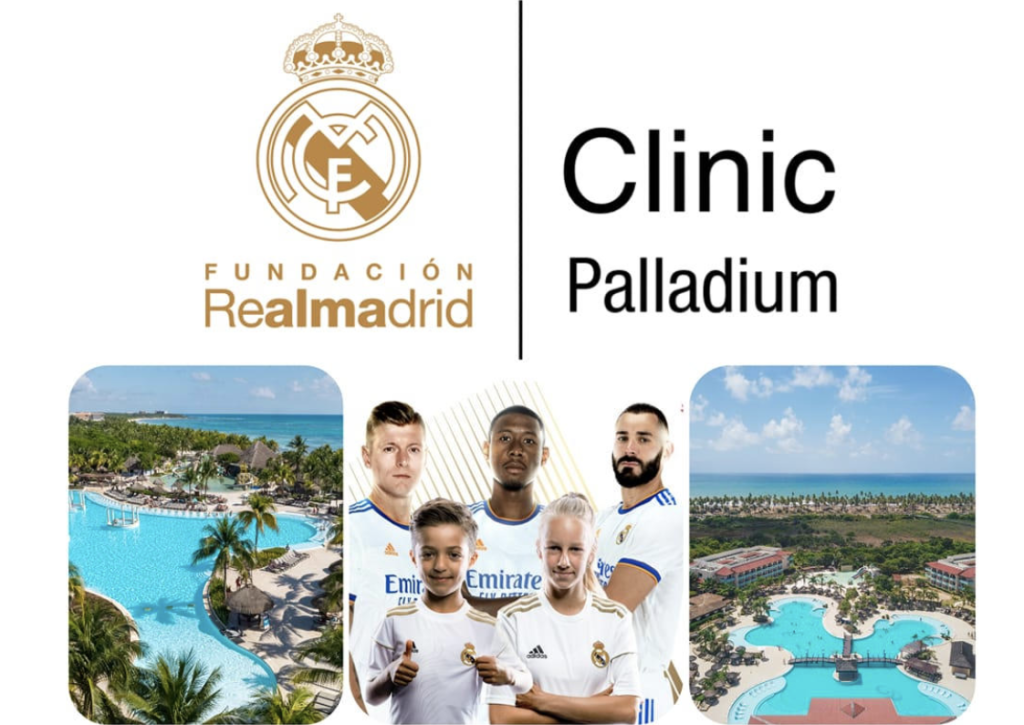 Dear PTC family,
We are pleased to inform you that the Official Real Madrid Clinic will be offering soccer training programs for boys and girls from 6 to 14 years old at Grand Palladium Imbassai and Grand Palladium Riviera Maya, here is all the information you need to know to enroll your child in this fabulous program.
The Real Madrid Foundation Clinics offer a unique and exciting opportunity to experience specialized soccer training with Real Madrid Foundation coaches who will help you improve your soccer skills.
Training at the official Real Madrid Clinic will allow players to train like a professional soccer player, learn the values of the sport, and the best players will have the opportunity to attend an exclusive sporting event in Spain! A unique experience in Madrid for a week.
Training under "The Real Way" methodology, this training is based on a complete analysis of the development that combines individual follow-up, as well as teaching values such as leadership, teamwork, respect and effort.
Surely now you have many questions and doubts about this incredible soccer program, below you can find the frequently asked questions:
What is the Real Madrid Soccer Clinic?
The program, exclusively for resort guests, focuses on advanced techniques and tactics, problem solving, on-field decision making and allows participants to immerse themselves in activities similar to those of professional team players, in addition to learning the club's sporting values. The methodology is the same as that applied to the greats at the Santiago Bernabéu stadium, called The Real Way, which combines individual coaching, the development of leadership principles, teamwork, respect and effort.
Who offers the clinic?
The coaches of the Real Madrid Foundation, trained in The Real Way methodology.
What does it include? The clinic lasts 5 days, with 1h30 of daily training. In addition, students will receive a complete official Real Madrid uniform (shirt, shorts and socks).
On what dates will the training be offered?
There will be up to 6 groups per day with a maximum of 25 children per group.
IMBASSAÍ:
Week 1 – 10/07 to 14/07
Week 2 – 17/07 to 21/07
RIVIERA MAYA:
Week 1 – 7/31 to 8/4
Week 2 – 7/08 to 11/08
Who can attend the classes?
The Clinics are only available for children (boys and girls) from 6 to 14 years old.
How much is the investment?
Brazil – R$ 2,652 / US$ 499
Mexico – US$ 499 / MXN 9,399
Reservations and payments made until April 30/ 23 will have a 20% discount.
What are the payment methods and how can I book the package?
Payment can be made directly at the hotel by credit or debit card. For more information, please contact our PTC Call Center.
It is very important to emphasize that all Clinics are conducted by Real Madrid Foundation coaches with experience in the Foundation.
In addition, all players who best represent the values of the Real Madrid Foundation will be able to travel to Madrid for a Real Madrid Foundation clinic at Ciudad Real Madrid.
Stay tuned to our social networks @palladiumtravelclub because we will be giving away 1 WEEK OF REAL MADRID CLINICS IN RIVIERA MAYA & 1 WEEK FOR THE REAL MADRID CLINICS IN IMBASSAÍ so that your child can make the most of the program with the best coaches of the Real Madrid Foundation.
Palladium Travel Club.