Dear Members,
We are less than a month away to kick off the Members Awards 2023 – Show Off like a Winner!!! in one of your favourite destinations, JAMAICA!
Montego Bay has amazing natural landscapes that you will love. Plus, the resort is magnificent for its contemporary architecture, and in case you didn't know, the infinity pool is the largest in Jamaica!
Grand Palladium Jamaica Resort & Spa is located on the shores of the beach, on the north coast of the island and only half an hour from Montego Bay and its airport. A paradisiacal enclave of beautiful beaches with turquoise waters, surrounded by lush vegetation and a mountainous landscape, where you will live an unforgettable experience.
Every day our Palladium Travel Club family grows and with it many members may wonder what are the Members Parties, don't worry, below we will tell you what our most glamorous party of the year is all about.
The Members Awards is an award for the loyalty of our members in which the day of the main party, we give them awards in different categories, for example: the most active in social networks, PTC influencer, the partying family, the partner, among many other categories. In addition, for two weeks we will have fun activities, main events, exclusive tours, cocktails, food, music and most importantly, time to create more unique moments with the whole PTC family.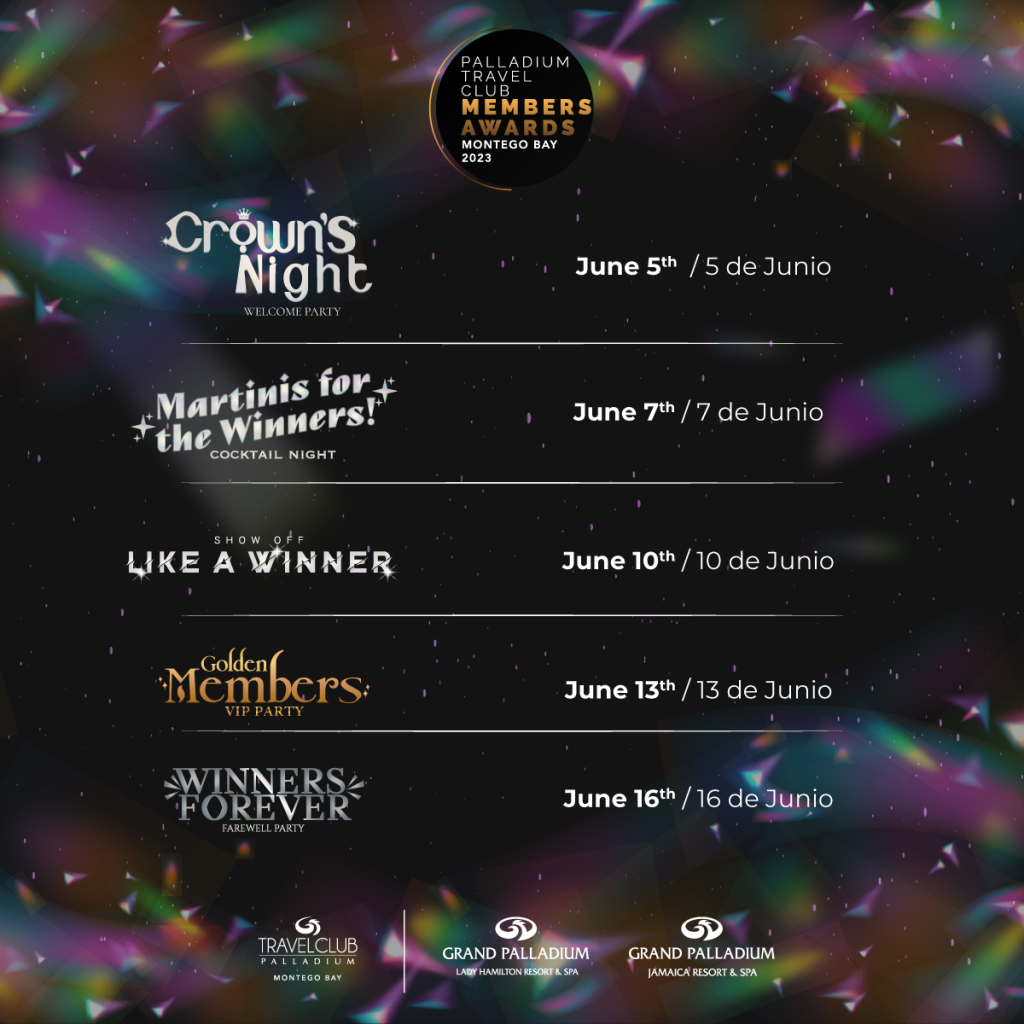 In this edition we decided to announce the nominees of the different categories in our social networks before the party, so you can vote for your favorite! Click on the link below to VOTE and remember that you have until the 2nd of June to do so, as voting closes on that day!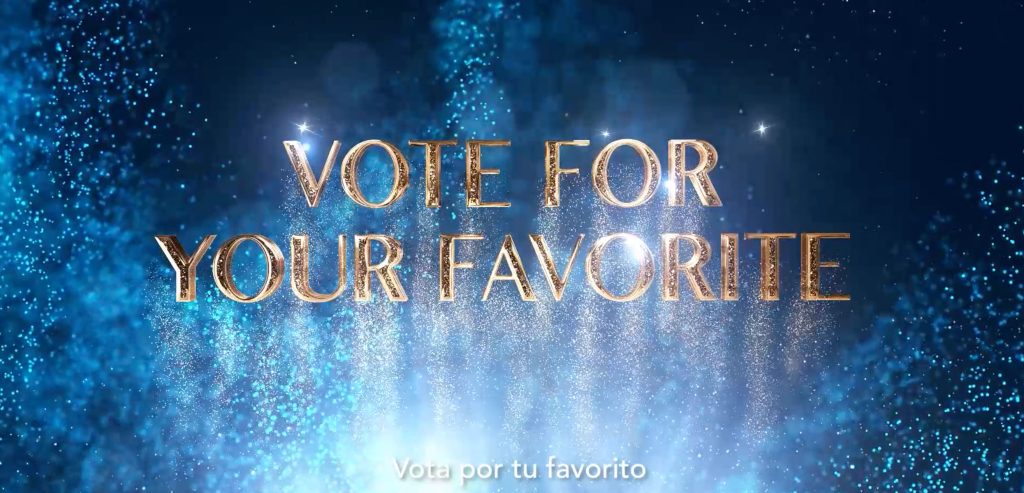 We would like to take this opportunity to inform you that if you are thinking of going to Jamaica, either because you are nominated or just want to go and have fun with the whole PTC family, TODAY is the ideal day to book as we have a lightning offer!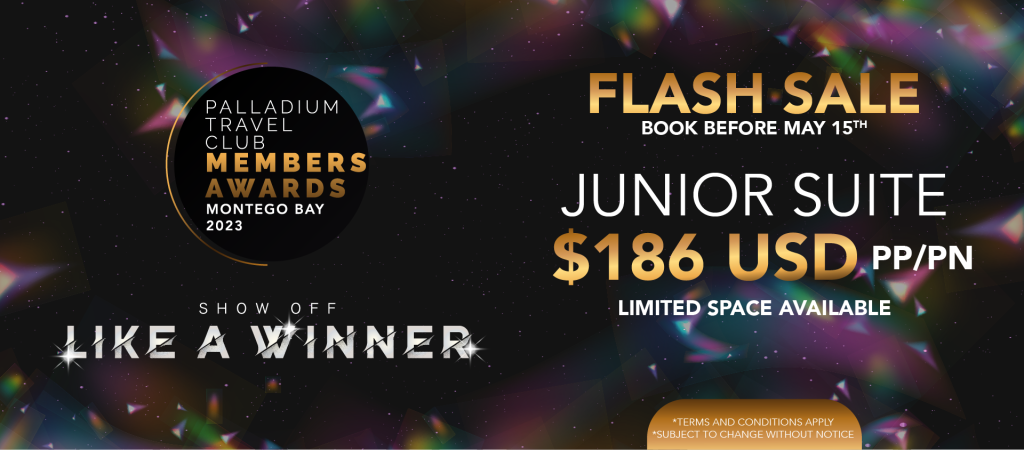 Also if you re-confirm your reservation for the Members Awards Montego bay 2023 you will be entered into a raffle to win your entry to Club Mobay! The premiere lounge area at Montego Bay International Airport, Jamaica.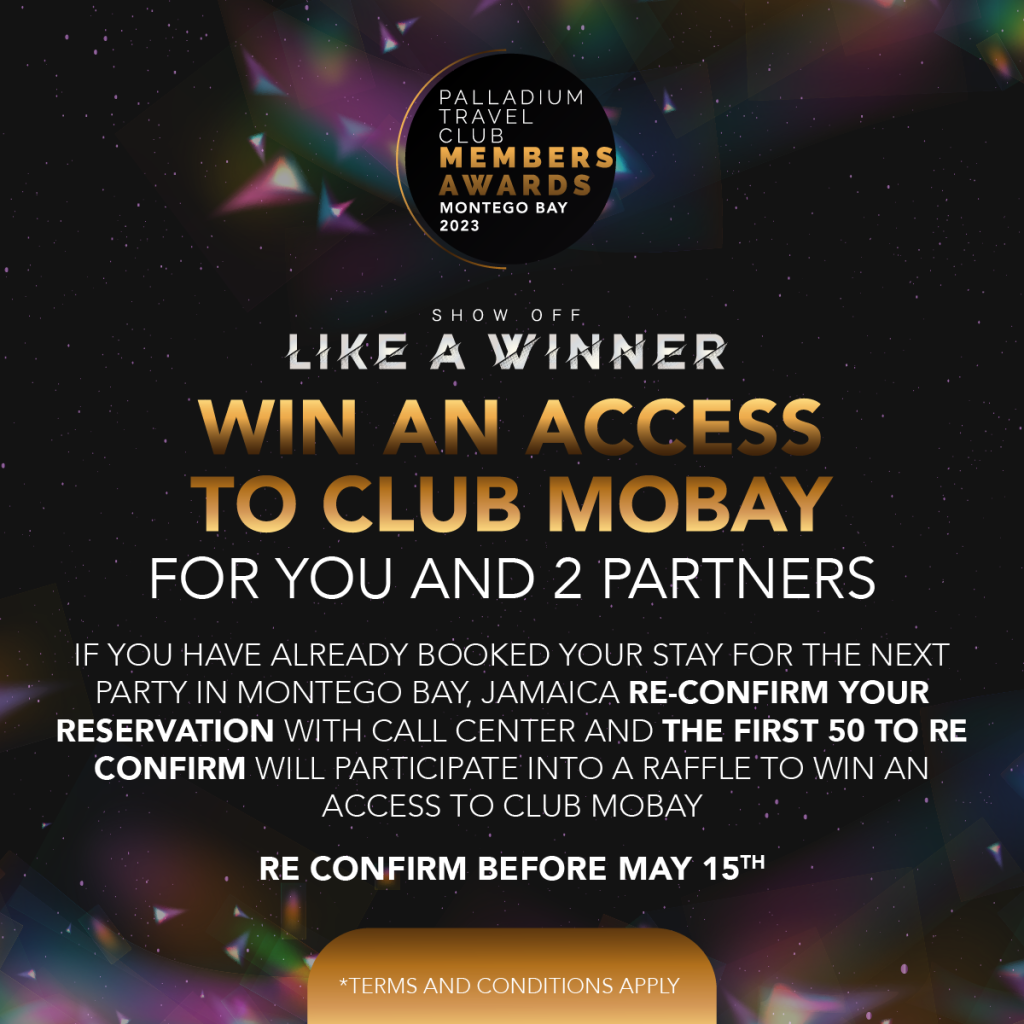 If you want to speed up your check-in on arrival we recommend you to re-confirm with our Call Centre and pre-pay your reservation, this way you can go directly to receive your party amenities.
Most of our members pay with cash on arrival, with this in mind we show you relevant information prior to your trip to Jamaica:
20 and 50 Euro notes with Queen Elizabeth's face on them will NOT be accepted as they are discontinued.
Your US dollars must be post 1914 and must not have a small face.
Find out about local laws and practices before you arrive.
When leaving the hotel avoid wearing jewellery or carrying large amounts of cash.
We hope you enjoy all the activities and events we have planned especially for our Palladium Travel Club family – we look forward to seeing you!
Palladium Travel Club