COOL TOUR IN RIVIERA MAYA
My Beautiful Mexico is almost ready to surprise you. You can still live the experience of discovering another side of the country in our Cool Tour party in the Riviera Maya from October 7th to 23th. Get your adrenaline pumping with wrestling, food trucks, fairs, piñatas and lots of Mexican energy.
Enjoy the warm Caribbean waters and be part of the parties, activities and surprises we have planned. Here you can read a little about the theme of the party, stay tuned to the social networks for the official program, reserve your place and enjoy one of your favorite destinations with your Palladium Travel Club family!
TRAVEL SALE
Already know where you'll be traveling next year? Now is the perfect time to schedule your next vacation in one of our destinations. We are just a few days away from starting the Travel Sale with five weeks of unique promotions for all our members from August 30 to October 3.
Every week, our Commercial Director, Eduardo Ledesma, will be having lives with our Social Media, Jocelyn Carmona, to talk about the weekly offer and answer all your questions, so stay tuned to the social networks and the website to find out about the great deals we have prepared for you.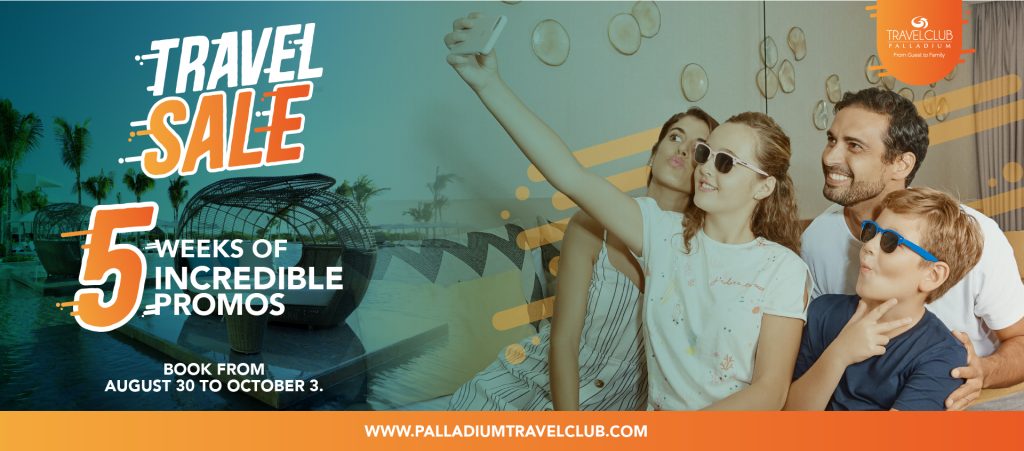 MEMBERS PARTIES 2023
What's your favorite party? We already have the dates and destinations where our 2023 Members Parties will take place, we are very happy to share them with you but we are even more excited to see you at all of them.
We will start the year in the golden waters of Riviera Nayarit to get to know a little more of the Mexican culture, CoolTour will be from March 10 to 25 in this Pacific destination. An event full of color, smells, flavors, music and excellent company.
The most important people will be part of our next party of the year. The Member's Awards will land in Montego Bay from June 9 to 25, the infinite summer destination will witness our recognition to the loyalty and preference of our PTC family. A not-to-be-missed event on our favorite island.
The year will end in Costa Mujeres with our 8th Annual Members Party with an amazing theme. Set aside October 6-22 to enjoy this great event in the turquoise waters of the Caribbean.
Stay tuned to our media to learn about the themes of each event and the offers we have for you. In this article you can read a little more about each event and its destination, reserve your place now!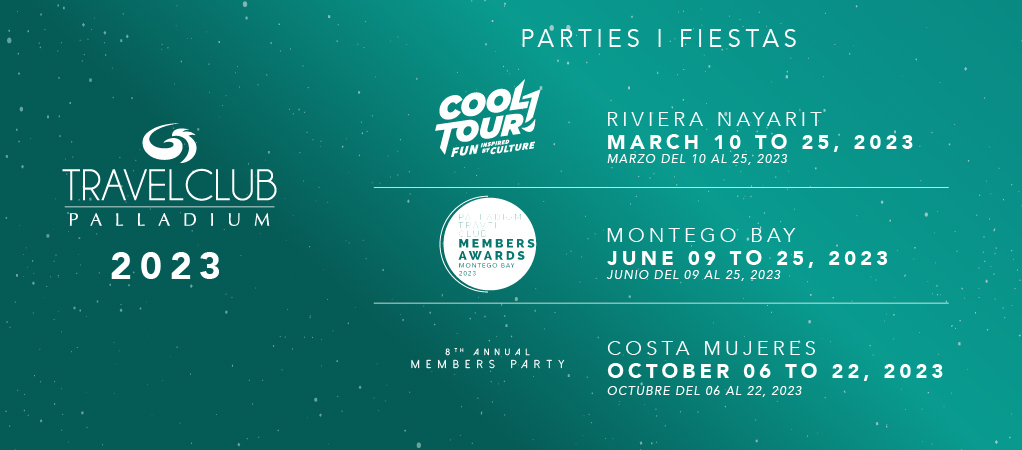 MR. SOLO BAR
It's not just a bar, it's Mr. Solo Bar. As part of a tribute to one of our most beloved Jamaica Managers, we decided to open a bar in his honor, inaugurated at the Members Awards in Punta Cana. Javier Solo was the Manager of Jamaica and, during his management, he touched our hearts with his kindness, leadership and teaching.
Meet the first Mr. Solo Bar on your next trip to Punta Cana and enjoy a delicious cocktail prepared by our great bartenders.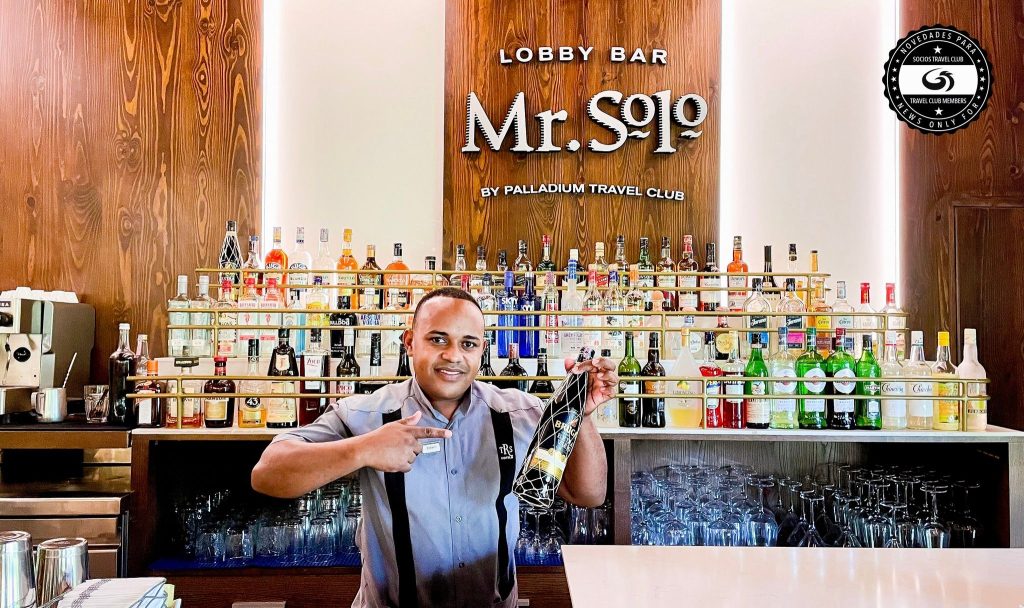 MONTEGO BAY RENOVATIONS
At Grand Palladium Jamaica Resort & Spa we are working to improve your experience within the hotel, so during this year we have been carrying out various renovation projects of spaces.
As part of this year's project, suites 11 to 25 are being remodeled. We are currently in the second phase, which involves the renovation of villas 11 to 18 with a possible completion date of November 20. You can already see the newly remodeled suites from 19 to 25! It is worth mentioning that Grand Palladium Jamaica and Grand Palladium Lady Hamilton are still open for reservations.
In addition, as part of the renovation project, we will have a new image of the Infinity Bar, the Mobay buffet and the lobby of Grand Palladium Jamaica. Here are some renderings of how these spaces will look like!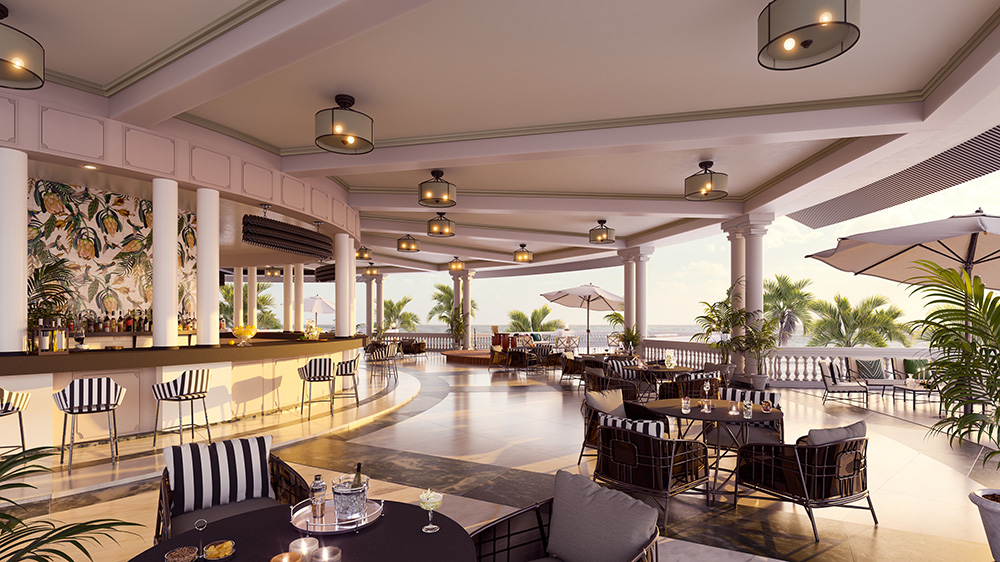 Infinity Bar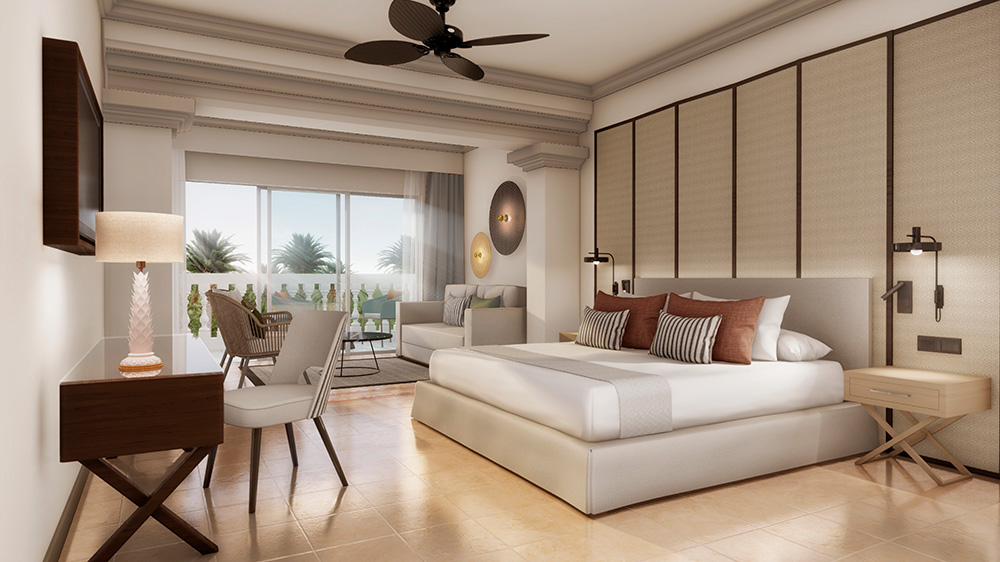 Junior Suite
TRS IBIZA HAS ALREADY OPENED WITH THE SIGNATURE LEVEL!
TRS Ibiza, the first adults-only hotel in Europe with a new service called: The Signature Level has opened its doors! It offers you an experience beyond All Inclusive and an unbeatable vacation.
As we have already mentioned, The Signature Level is separate from the Palladium Travel Club and independent from the membership levels. Even so, don't hesitate to give it a try and discover a new way of vacationing.
Among the exclusive services, the ones that have fascinated us the most are:
Included tickets to events at Ushuaïa Ibiza Beach Hotel, Hard Rock Hotel Ibiza for 80's Kids, and the Hi Ibiza club – you'll never be short of a party!
Free entrance to the Sunset experience at Gravity Sky Lounge with drinks service included from 8:00 pm where you can watch one of the most beautiful sunsets in Ibiza.
Exclusive access to the Gravity Sky Lounge with Infinity pool and bar service, from 10am to 7pm. A luxury experience not to be missed on your next vacation.